Hummus is one of my favorite dips. I use it for veggies, chips, and as a spread on turkey sandwiches. YUM! Bonus: it's cheap and easy to make.
Drain and rinse 1 can of garbanzo beans (chick peas)
I always roll my lemon a couple times while slightly
pushing down--a trick I learned from Rachel Ray "to get the juices flowing."
Squeeze the juice of half a lemon. I love this lemon juicer. So worth the $5. It has a strainer, squeezing cap, pouring spout, and is a measuring cup. That Martha, she's a genius.
Another one of my favorite kitchen tools--my OXO garlic press.
Crush 5 cloves of garlic, or 6, or 7. In my opinion there's no such thing as too much garlic :)
Add some fresh ground pepper.
I don't have a food processor so I use my immersion hand blender. It works great!
Add a little bit of cold water at a time as needed to reach the right consistency. With an immersion blender, you need to add some right away to help get it going.
This makes enough for me to have it for two lunches on all my veggies! Let me know if you try it and how you like it!
I linked up to the following party: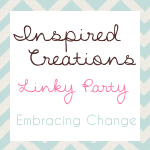 Titus 2 Tuesday